The Barton & Guestier Food & Wine Academy was created back in 1989 and has welcomed and trained around 450 tradepartners per year. Guests immerse themselves in the "French Art of Living" experience while enjoying training, wine dinners, and food and wine pairing workshops among other offerings.
During its two-year closure, B&G embraced the opportunity to complete renovations to the estate, including a reconstruction of the kitchen -often referred to as "the heart of the Château"- revamped with modern equipment. Château Magnol, which is an 18th-century estate, counts twelve comfortable rooms all outlined in French country-inspired interiors and offers numerous leisure activities including a music room, spaces to play pool and darts, pétanque, as well as a pergola in the garden for a relaxing meal or apéritif. A stay at the Château is combined with visits to Bordeaux City and some other famous Growths in the region.
Meet the team looking after the comfort and education of our guests: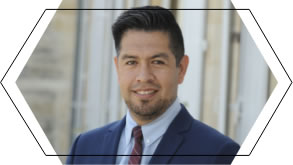 Mr Omar BARBOSA, Education & Hospitality Manager
Omar is Best Sommelier of Mexico in 2011 and 2013 and reached the 23rd place in the Best Sommelier of the World 2013 competition in Tokyo, Japan. He is Ambassador of Alsace wines since 2011 and winner of the Master of Champagne 2015 competition. Member of the Union of French Sommeliers and of the Association of Mexican Sommeliers, member of the ASI, Omar is a Certified trainer in wines and spirits since 2014. He has a huge experience in Training in general and of course as a Sommelier, particularly at the "Chapon Fin", one of Bordeaux' best reknowned restaurants. Omar developed a new training program, including blending sessions, blind tastings and much more.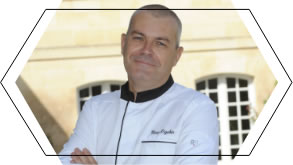 Mr Yann ORGEBIN, Executif Chef
Yann has strong experience in authentic French gastronomy, and previously held position at the hotel L'Ermitage in St Cyr au Mont d'Or. Yann was also a member of the Toques Blanches Lyonnaises when he had his own restaurant in Lyon and also worked abroad (USA, UK). Guests at the Château will experience premium cuisine paired with B&G's portfolio of finest wines from the main French winegrowing regions.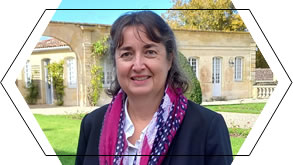 Mrs Corinne FAURIES, Hospitality & Wine Tourism Assistant
Corinne is passionate about wine and gastronomy and also a confirmed Sommelier.
Previously she worked in la Cité du Vin, Pavillon de Margaux, Sources Caudalie and other famous establishments.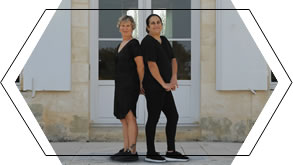 And also part of the team : Mrs Fabienne RYCKEWAERT, Steward, ensuring the service of breakfast and lunch, as well as Maintenance agent Mrs Anse SAZLI.